Do you need software to manage your business?
  Do you have an Idea, which can generate money?
  Do you want to convert your Idea to software?
  Do you need an ERP / CRM to automate your business?
If YES, then you are in the right place.
We develop software to meet client's exact need. You may ask for a Software or Application or ERP or CRM, we got it. A Desktop or Web or Mobile(Android & iPhone) Application, we provide solutions for all.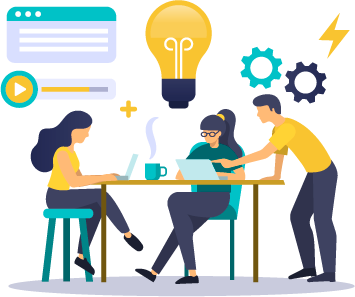 What do you get?
  User-friendly Interface
We make a clean, simple & intuitive interface which will be easy to use for you.
  Security
We take good care of all the security measures while developing the application. All your data will be safe & protected.
  Email & SMS Notification
Email & SMS integration to application. Transactional or promotional notifications will be sent to users by email or SMS. Transactional notifications are like confirming email id and mobile number while creating an account or sending notification of payment due date or sending confirmation message after successful payments. Promotional notifications are like sending an offer or newsletter or announcement to users. 
  Two-factor authentication(2FA)
We implement Two-factor authentication(2FA) for securing the user account and application. OTP will be sent to the email address or mobile number while logging in. So cracking a password will never get into the account. So it's a safe and standard approach for making an application more secure. 
  Scalability
If your application gets more traffic or uses more resources than what allocated, then your application shouldn't cease. It should be scalable automatically to meet your business growth. We take measures of that from the very beginning at the time of deployment.
  Backup
Any mishap to your application shouldn't break your company down financially. An automatic backup script should be running regularly to face the hazards. With backup, we can restore your business seamlessly.
  Support
We will be there with you always to provide long term support. Also, we develop applications with the world's most popular and leading technologies. So we are not alone who knows what's in the code. You can always get support from around the globe if you are not interested in connecting with us.